Le Pliage Original
Coin purse - Pink
Canvas, Recycled canvas
Candy
Enjoy Free Ground Shipping On All Orders or Free Click & Collect. See More
Guaranteed Delivery Before XMAS (Order by noon EST):
Ground - December 16
Express - December 20
Overnight- December 22
THE LONGCHAMP STORY
This little purse, a key Longchamp model, is seductively lightweight and supple. Longchamp drew its inspiration from origami when creating LE PLIAGE, a light, foldaway bag that has since become a cult object worldwide.The LE PLIAGE line comes in a multitude of shapes and sizes, and in many colors each season. Ideal for everyday use, LE PLIAGE is light as a feather, folds away to the size of a paperback, and is durable enough to keep all your essentials close to hand.
VIEW THE Le Pliage Original COLLECTION
Reference : 30016089P73
Dimensions : 3.5 in (L) x 2.8 in (H) x 2 in (W)
Material : Polyamide canvas with inside coating
Metallic Hardware : Gold color
Trimming : Russian leather (cowhide)

Exterior details

Closing : Zipper and snap closure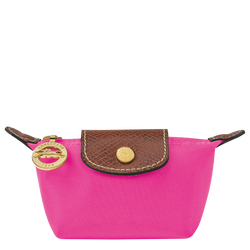 Le Pliage Original Coin purse