Fall-Winter 2022 Collection
Silk scarf 50 - Orange
Silk
Terracotta
Enjoy Free Ground Shipping On All Orders or Free Click & Collect. See More
Guaranteed Delivery Before XMAS (Order by noon EST):
Ground - December 16
Express - December 20
Overnight- December 22
THE LONGCHAMP STORY
With this romantic silk scarf, the brand immerses Paris in a spirit of celebration. Pictured in a whirlwind of stars and snowflakes, the Eiffel Tower proudly displays its Yuletide decorations. At the top of the tower floats a ribbon, on which a small Longchamp bag ripples in the cold winter air. Reminiscent of a Christmas market, a row of houses creates a graphic border all around the scarf. Delicate and soft, a Longchamp silk scarf transforms a simple ensemble into a chic, put-together look. Wear around the neck, in your hair, or tied around your bag handles, depending on your personal style.
VIEW THE Fall-Winter 2022 Collection COLLECTION
Reference : 50563SOI213
Dimensions : 19.7 in (L) x 19.7 in (H)
Material : 100% Silk
Finishing : Machine-stitched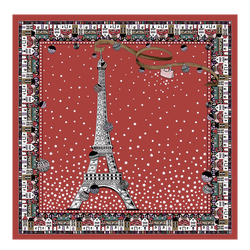 Fall-Winter 2022 Collection Silk scarf 50