Le Pliage LGP
Pouch - Multicolor
Canvas
Black/White
Enjoy Free Ground Shipping On All Orders or Free Click & Collect. See More
Guaranteed Delivery Before XMAS (Order by noon EST):
Ground - December 16
Express - December 20
Overnight- December 22
THE LONGCHAMP STORY
This zipped pouch is ideal for holding all your cosmetics and other little essentials. With its compact size, it can be popped into a bag and used every day. Longchamp drew its inspiration from origami when creating LE PLIAGE, a light bag that has since become a cult object worldwide.LE PLIAGE COLLECTION is adorned with a minimalist and unstructured print. Like bricks in a construction game, the letters of the LONGCHAMP name form "LGP", creating a graphic, architectural-style logo. Available in all-over monogram, it transforms into an optical labyrinth.
VIEW THE Le Pliage LGP COLLECTION
Reference : 34061412067
Dimensions : 8.7 in (L) x 4.7 in (H) x 2.4 in (W)
Material : Polyamide canvas with inside coating
Metallic Hardware : Matte black
Trimming : Cowhide leather
Lining : Textile

Exterior details

interior details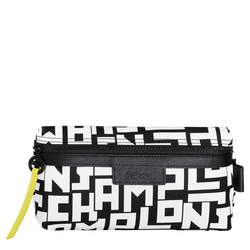 Le Pliage LGP Pouch