Le Pliage LGP
Clutch - Multicolor
Canvas
Black/White
Enjoy Free Ground Shipping On All Orders or Free Click & Collect. See More
Guaranteed Delivery Before XMAS (Order by noon EST):
Ground - December 16
Express - December 20
Overnight- December 22
THE LONGCHAMP STORY
This clutch is designed to hold all of your daily essentials. Its handle allows it to be carried by hand or worn over the shoulder, like a small bag. Longchamp drew its inspiration from origami when creating LE PLIAGE, a light bag that has since become a cult object worldwide.LE PLIAGE COLLECTION is adorned with a minimalist and unstructured print. Like bricks in a construction game, the letters of the LONGCHAMP name form "LGP", creating a graphic, architectural-style logo. Available in all-over monogram, it transforms into an optical labyrinth.
VIEW THE Le Pliage LGP COLLECTION
Reference : 10039412067
Dimensions : 7.5 in (L) x 5.5 in (H) x 2.4 in (W)
Material : Polyamide canvas with inside coating
Metallic Hardware : Silver color et Matte black
Trimming : Cowhide leather
Lining : Textile
Weight : 102 g

Exterior details

Strap Height : 10 cm / 3.9 in
Closing : Zipped

interior details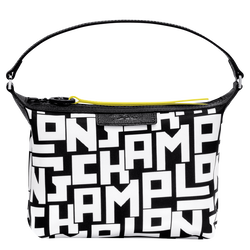 Le Pliage LGP Clutch