Fall-Winter 2022 Collection
Silk scarf - Blue
Silk
Cobalt
● Available (Limited Stock)
Free Click & Collect :
Collection items : 1 day after your order is confirmed from ION boutique.
Personalised items : 6 to 8 weeks after the order has been placed.

THE LONGCHAMP STORY
The Parisian spirit, the Saint-Honoré boutique, the Longchamp racecourse mill, the galloping rider, the Le Pliage and Roseau bags: this deliciously retro board game scarf plays with the symbols of the LONGCHAMP universe throughout the seasons. An essential and timeless accessory, the silk scarf is traditionally tied around the neck but can also be worn many other ways: around the wrist, as a belt, in the hair as a headband or even transformed into a jewel for a bag. Longchamp uses its scarves to recount a multitude of wonderful stories, conveying a very poetic vision of the world.
VIEW THE Fall-Winter 2022 Collection COLLECTION
Reference : 50576SOI487
Dimensions : 90 cm (L) x 90 cm (H)
Material : 100% Silk
Finishing : Hand-rolled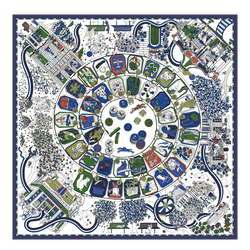 Fall-Winter 2022 Collection Silk scarf
S$525.00
● Available (Limited Stock)