Spring/Summer Collection 2022
Shawl - Pink
Other
Flowers
● Available (Limited Stock)
S$200.00

Regular price

S$400.00
Free Click & Collect :
Collection items : 1 day after your order is confirmed from ION boutique.
Personalised items : 6 to 8 weeks after the order has been placed.

THE LONGCHAMP STORY
Here, an XXL LONGCHAMP medallion is printed in different shades to create an impression of depth. This shawl is woven in a modal blend sourced from FSC wood (Forest Stewardship Council). Stoles are an essential accessory in any wardrobe. A natural addition to ready-to-wear, they make a basic pullover look more sophisticated and give a classic outfit a lift. Longchamp has drawn on its extensive weaving and knitting know-how to create these accessories, ideal for updating your silhouette.
VIEW THE Spring/Summer Collection 2022 COLLECTION
Reference : 50102MODP64
Dimensions : 120 cm (L) x 120 cm (H)
Material : 100% Modal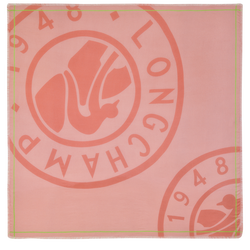 Spring/Summer Collection 2022 Shawl
S$200.00

Regular price

S$400.00
● Available (Limited Stock)