Boxford +
Cabin suitcase - Blue
Other
Blue
● Available (Limited Stock)
Free Click & Collect :
Collection items : 1 day after your order is confirmed from ION boutique.
Personalised items : 6 to 8 weeks after the order has been placed.

THE LONGCHAMP STORY
This hard, wheeled boarding case is both resistant and easily handled. It offers an expandable gusset for adding last-minute purchases. Dedicated exclusively to travelling, the BOXFORD + line offers a choice of spacious and easy-to-handle hard case luggage. Practical and resistant, the models in this line bear the embossed rectangular Longchamp logo found in the BOXFORD line and are designed to safely transport your personal belongings from one place to another.Created from streamlined and contemporary case shells, the BOXFORD + suitcases wear a print echoing the two-tone effect of the BOXFORD colored weave. The result is a subtle two-color effect, adding to the line's discreet sophistication.
Reference : L1457085127
Dimensions : 35 cm (L) x 54 cm (H) x 24 cm (W)
Material : 80% Polycarbonate - 20% ABS
Metallic Hardware : Dark silver color
Trimming : Cowhide
Lining : Polyamide - Printed, Longchamp ribbons
Weight : 3,210 g

Exterior details

interior details

Interior zipped compartment : 1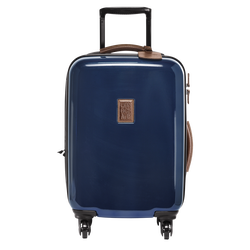 Boxford + Cabin suitcase
S$690.00
● Available (Limited Stock)