Fall-Winter 2021 Collection
Blouse - Red
Other
Red
Select Size
● Available (Limited Stock)
S$340.00

Regular price

S$680.00
Free Click & Collect :
Collection items : 1 day after your order is confirmed from ION boutique.
Personalised items : 6 to 8 weeks after the order has been placed.

THE LONGCHAMP STORY
This blended silk blouse embodies Parisian elegance thanks to its puffed sleeve details and the small ruffles bordering its crossed neckline. For fall-winter 2021, Longchamp was inspired by the work of Pierre Paulin. Paulin is an emblematic designer famous in the second half of the 20th century who revolutionized our interiors. Influenced heavily by the Scandinavian and Japanese trends, Paulin was outward-looking, like the Parisian Longchamp.
Reference : 60855SPF545T36
Material : 63% Acetate, 37% Silk
Collar : V Neckline
Sleeves : V Neckline

Exterior details

Cut : Loose tighten on waist
Details : Mixed silk body; Small flounces on the shoulders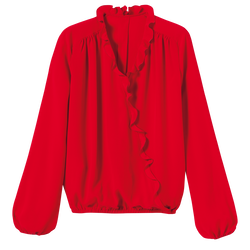 Fall-Winter 2021 Collection Blouse
S$340.00

Regular price

S$680.00
● Available (Limited Stock)