Fall-Winter 2022 Collection
Silk scarf - Grey
Silk
Turtledove
● Available (Limited Stock)
Free Click & collect :
Collection items : within 1 day
Personalised items : 6 to 8 weeks after the order has been placed.
THE LONGCHAMP STORY
With this silk scarf, Longchamp encourages us to dream, to contemplate the myriad of lights and constellations... to embark on a flight of fantasy on this starry night. Delicate and soft, a Longchamp silk scarf transforms a simple ensemble into a chic, put-together look. Wear around the neck, in your hair, or tied around your bag handles, depending on your personal style.
VIEW THE Fall-Winter 2022 Collection COLLECTION
Reference : 50551SOIP55
Dimensions : 50 cm (L) x 50 cm (H)
Material : 100% Silk
Finishing : Machine-stitched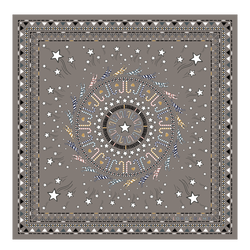 Fall-Winter 2022 Collection Silk scarf
RM475.00
● Available (Limited Stock)