Fall-Winter 2021 Collection
Silk ribbon - Red
Silk
Red
● This product is not available
Free Click & collect :
Collection items : within 1 day
Personalised items : 6 to 8 weeks after the order has been placed.
THE LONGCHAMP STORY
This double-sided ribbon with an ethnic look showcases all the detail of a traditional Maasai necklace. Exoticism and colors sensuously blend together, inviting you to travel. Longchamp enriches its range of soft accessories with the silk twill ribbon. It can be worn around the neck, tied around the wrist, or in the hair or it will elegantly accessorize your bag.
VIEW THE Fall-Winter 2021 Collection COLLECTION
Reference : 51003SOIP59
Dimensions : 5 cm (L) x 120 cm (H)
Material : Silk
Finishing : Hand-rolled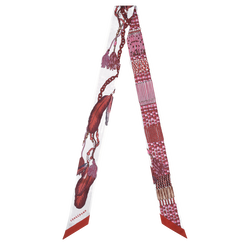 Fall-Winter 2021 Collection Silk ribbon
RM475.00
● This product is not available