Amazone
Compact wallet
Material -
Leather
---
Colors -
Black/Ebony
---
Home Delivery:
Collection items: 5-6 working days after the order has been placed.
Personalised items: 4 weeks after the order has been placed.

---
This zipped wallet has an attractive organized interior layout, compact size and place for a mobile phone. Its strap enables it to be carried on the wrist, for when you only want to take the essentials with you. Urban elegance, a sleek look—the new Longchamp Amazon is a conqueror. This is a model that exudes an assumed, free and courageous femininity, nurturing a rebellious spirit. A daring explorer, this woman journeys to all of the world's capitals. Authentic and committed, she follows her instincts and ideas, freeing herself from diktats. It is a wild line made more refined thanks to a metallic chain, which allows you to carry it several ways. With AMAZONE, the focus is on bohemian codes tinged with romance: its stirrup buckle echoes the equestrian spirit and the signature is hot-stamped discreetly onto the leather. To finish, a braided piping gently embraces the bags' lines. Modern and graphic, Longchamp offers us its own taken on padding. The brand has structured an exceptional soft and full lambskin using vertical topstitching. Both rock and feminine, the line has everything it takes to become a classic.
---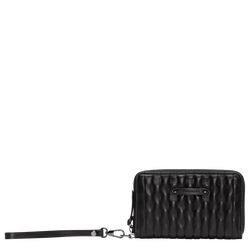 Amazone Compact wallet