Longchamp x EU
Backpack
Material -
Leather
---
Colors -
Black
---
Home Delivery :
-Collection items: 5-6 working days after the order has been placed.
-Personalised items: 2-3 weeks after the order has been placed
Free delivery on orders over 120 €
Free Click & Collect :
-3 hours or 5-6 days (depending on availability)
---
This oversized backpack is an updated version of the iconic Longchamp travel bag, with adjustable straps for a more casual and offbeat style. Its original handle also allows you to carry it by the hand, to vary your look. An ideal model for entering the ring! This season, Longchamp has teamed up with Edison Chen, founder of the fashion brand Emotionally Unavailable (EU). Edison Chen is a real phenomenon in Asia, a big name in fashion and streetwear. The term EU refers to the way our younger generations move from one relationship into another, invested but not too serious. The brand logo, representing a melting heart, embodies this idea. The expression EU denotes the realities of a romantic relationship which Edison Chen likens to a boxing match, because it can bring out the best in you but also hurt you. So get ready, because the first round's about to begin!
---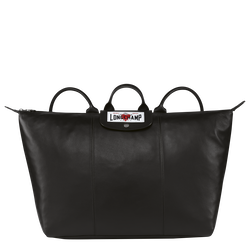 Longchamp x EU Backpack