Fall-Winter 2021 Collection
Silk scarf - Pink
Silk
Pinky
● This product is not available online
Free Click & Collect :
Collection items:
3 - 4 working days after the order has been placed.
Personalised items:
6 to 8 weeks after the order has been placed.

*Please note, there may be shipping delays to any destination until further notice due to COVID-19.
THE LONGCHAMP STORY
With this romantic silk scarf, the brand immerses Paris in a spirit of celebration. Pictured in a whirlwind of stars and snowflakes, the Eiffel Tower proudly displays its Yuletide decorations. At the top of the tower floats a ribbon, on which a small Longchamp bag ripples in the cold winter air. Reminiscent of a Christmas market, a row of houses creates a graphic border all around the scarf. A timeless must-have accessory, the silk scarf is traditionally tied around the neck, but there are 1001 ways to wear it: around the wrist, as a belt or a headband and even as a charm on your bag. Longchamp has told many wonderful stories through scarves and has created a whole world of poetry.
Reference : 50563SOIA26
Dimensions : 50 cm (L) x 50 cm (H)
Material : Silk
Finishing : Machine-stitched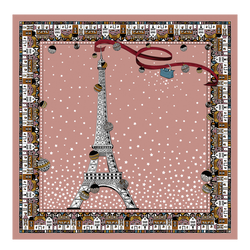 Fall-Winter 2021 Collection Silk scarf
HK$800.00
● This product is not available online