Fall-Winter 2022 Collection
Silk scarf - Grey
Silk
Slate
● Available (Limited Stock)
Free Click & Collect :
Collection items : 1 day after your order is confirmed from ION boutique.
Personalised items : 6 to 8 weeks after the order has been placed.

THE LONGCHAMP STORY
A thousand fragrances seem to emanate from this dazzling necklace of flowers. This flamboyantly colored bouquet is a true delight for the senses. An essential and timeless accessory, the silk scarf is traditionally tied around the neck but can also be worn many other ways: around the wrist, as a belt, in the hair as a headband or even transformed into a jewel for a bag. Longchamp uses its scarves to recount a multitude of wonderful stories, conveying a very poetic vision of the world.
VIEW THE Fall-Winter 2022 Collection COLLECTION
Reference : 50579SOI212
Dimensions : 90 cm (L) x 90 cm (H)
Material : 100% Silk
Finishing : Hand-rolled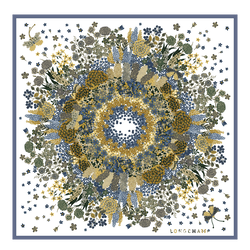 Fall-Winter 2022 Collection Silk scarf
S$525.00
● Available (Limited Stock)