Delta Box
Men's belt
Material -
Leather
---
Colors -
Black/Navy
---
Collection items: Complimentary Ground Shipping (Due to COVID-19, there will be shipping delays to any destination at all service levels until further notice).
Personalized items: Complimentary Ground Shipping (5-6 weeks after the order has been placed)
Available (Limited Stock)
---
Consisting of a strap and a choice of two buckles, this luxury set allows a variety of styles, depending on your outfit. Belts are an essential accessory in any man's wardrobe, for setting off a timeless classic, dressing up a chic outfit or adding a sporty feel. Longchamp draws on its leather goods expertise to create belts in a multitude of styles. Up to you to find the right models for you. This reversible belt plays with a sophisticated mix of materials and styles.
---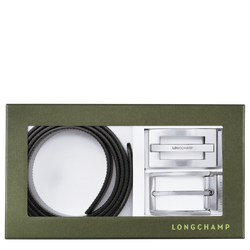 Delta Box Men's belt
Available (Limited Stock)