Fall-Winter 2021 Collection
Retractable umbrella - Black
Other
Black
● This product is not available
Collection items: Complimentary Ground Shipping (Due to COVID-19, there will be shipping delays to any destination at all service levels until further notice).
Personalized items: Complimentary Ground Shipping (5-6 weeks after the order has been placed)
THE LONGCHAMP STORY
Available in a number of vivid colors, this Le Pliage Club micro umbrella will brighten any grey sky! Umbrellas are an everyday accessory that come in a wide variety of shapes, colors and materials. Longchamp uses its leather goods expertise and sense of style to offer a wide range, from small retractable umbrellas you can slip into a bag to generous walking stick umbrellas that make use of the bad weather to enhance your elegance.
View collection Fall-Winter 2021 Collection
Reference : 54007PES001
Dimensions : 24 cm (L)
Material : Polyester
Accessories : Leather

Exterior details

Opening : Manual
Umbrella ribs : 6
Handle : Round in genuine maple wood
Handle details : Leather ring embossed with a Longchamp horse
Wrist strap : YES
Umbrella function : Retractable shaft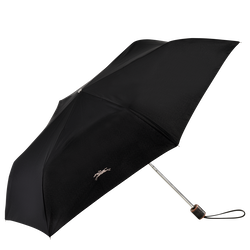 Fall-Winter 2021 Collection Retractable umbrella
C$85.00
● This product is not available