Parapluie homme
Retractable umbrella
Material -
Other
---
Colors -
Black/Navy
---
Collection items: Complimentary Ground Shipping (Due to COVID-19, there will be shipping delays to any destination at all service levels until further notice).
Personalized items: Complimentary Ground Shipping (5-6 weeks after the order has been placed)
Available (Limited Stock)
---
Overlaid like bricks in a construction game, the letters of the Longchamp name form "LGP", creating a graphic, architectural-style logo. Printed at an angle to give a dynamic effect, this micro-umbrella will help you get the better of bad weather. Umbrellas are an everyday accessory that come in a wide variety of shapes, colors and materials. Longchamp uses its leather goods expertise and sense of style to offer a wide range, from small retractable umbrellas you can slip into a bag to generous walking stick umbrellas that make use of the bad weather to enhance your elegance.
---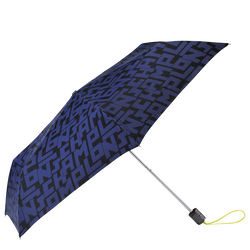 Parapluie homme Retractable umbrella
Available (Limited Stock)