Fall-Winter 2021 Collection
Retractable umbrella - Black
Other
Black
● This product is not available
Collection items: Complimentary Ground Shipping (Due to COVID-19, there will be shipping delays to any destination at all service levels until further notice).
Personalized items: Complimentary Ground Shipping (5-6 weeks after the order has been placed)
THE LONGCHAMP STORY
Available in lots of sober and elegant colors, this small compact umbrella will brighten up the grey sky! Its refined touch: an embroidered Longchamp horse signature. Umbrellas are an everyday accessory that come in a wide variety of shapes, colors and materials. Longchamp uses its leather goods expertise and sense of style to offer a wide range, from small retractable umbrellas you can slip into a bag to generous walking stick umbrellas that make use of the bad weather to enhance your elegance.
Reference : 54002PES001
Dimensions : 30 cm (L)
Material : Polyester
Accessories : Ring stamped with Longchamp Horse

Exterior details

Opening : Automatic
Umbrella ribs : 8
Handle : Round in genuine maple wood
Handle details : Leather ring embossed with a Longchamp horse
Wrist strap : YES
Umbrella function : Retractable shaft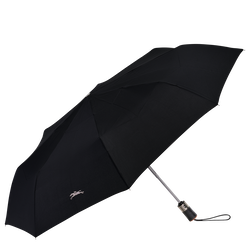 Fall-Winter 2021 Collection Retractable umbrella
C$115.00
● This product is not available