Fall-Winter 2021 Collection
Silk ribbon - Multicolor
Silk
Black/White
● This product is not available
Collection items: Complimentary Ground Shipping (Due to COVID-19, there will be shipping delays to any destination at all service levels until further notice).
Personalized items: Complimentary Ground Shipping (5-6 weeks after the order has been placed)
THE LONGCHAMP STORY
Overlaid like bricks in a construction game, the letters of the Longchamp name form "LGP", creating a graphic and architectural-style logo. Available in all-over monogram and in two sizes, you won't be able to take your eyes off its optical labyrinth. Longchamp enriches its range of soft accessories with the silk twill ribbon. It can be worn around the neck, tied around the wrist, or in the hair or it will elegantly accessorize your bag.
Reference : 51002SOI067
Dimensions : 5 cm (L) x 120 cm (H)
Material : Silk
Finishing : Hand-rolled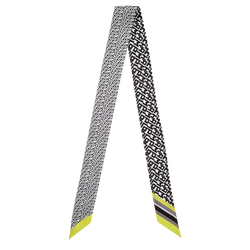 Fall-Winter 2021 Collection Silk ribbon
C$125.00
● This product is not available